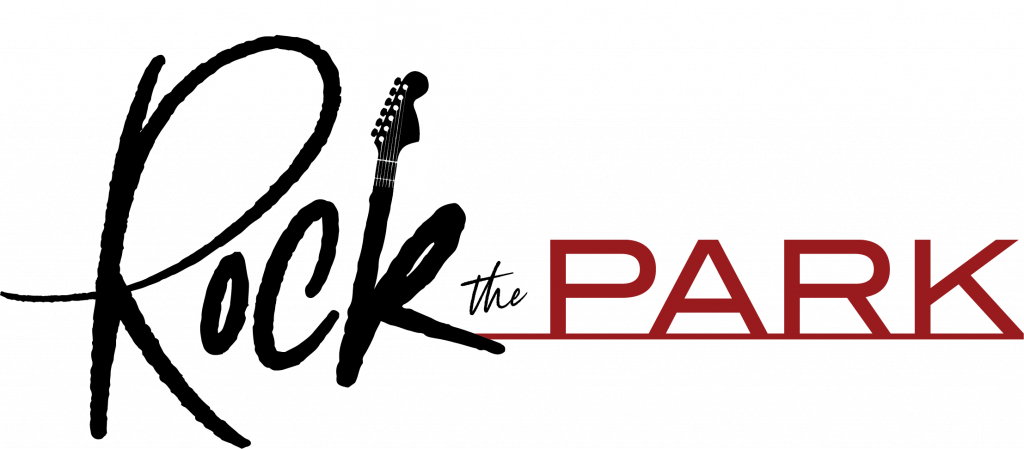 Rock the Park Concert Series featuring
CORY ASBURY and JORDAN FELIZ
SATURDAY, SEPTEMBER 9 - 7 PM
Get ready for an unforgettable night of music, fun, and fellowship as we bring you Rock the Park at Prasco Park. Mark your calendars for Saturday, September 9, 2023, because this is a night you absolutely don't want to miss!
Featuring the phenomenal talents of Cory Asbury and Jordan Feliz, our live worship experience promises to lift your spirits and fill the park with soul-stirring melodies. Gather your family and friends for an evening of celebration and praise that will leave a lasting impact.
But that's not all! As our way of saying thank you for joining us, we're offering complimentary admission and all event amenities. Yes, you read that right - FREE!  And to make your experience even more delightful, we've partnered with some amazing vendors: Chick-fil-A, Domino's Pizza, Mission Barbeque, The Cone, and the Chill Out Truck, to provide free concessions. Arrive early to enjoy your favorites (while supplies last)!
Remember, tickets are a must for entry. Each guest aged 2 and over must present a valid ticket. Tickets are sold out. We appreciate your support!
Stay tuned for updates and ticketing information on our website and social media pages.
We can't wait to see you there! Let's rock the park together!
Admission and all event amenities are complimentary. Tickets are required for the event. Each guest (2 and over) must present a valid ticket for entry.
TICKETS ARE REQUIRED. TICKETS ARE SOLD OUT! 

TICKET HOLDER INFORMATION
All Rock the Park gates will open 2 hours prior to the concert. Tickets are required for this event. No tickets will be offered at the gate. Each guest must provide a unique ticket for entry. FAMILIES OR LARGE GROUPS WILL NOT BE PERMITTED ENTRY USING ONE TICKET.
Tickets were available using the third-party site EVENTBRITE. All tickets are digital were sent by Eventbrite. Please bring a digital or physical copy of your ticket to present at the park entrance. All Children under the age of two will not be required to have a ticket to gain admission.
Once you enter the venue, you may exit and re-enter, however you must have an event issued wristband and go back through the security checkpoint.
Prasco Park is pleased to offer a wide variety of food and beverage choices to satisfy our guests' appetites and quench their thirsts before and during the concert. Chick-Fil-A, Dominos Pizza, Mission Barbeque, The Cone and the Chill out Truck will be onsite - FREE of CHARGE!
In the event you have dietary restrictions you are able to bring your own food. All carry-in items will be searched.
All food and beverage stations will be open at 5 PM when gates onen and will close promptly at 8:30 PM.
At entry each guest will be issued a Food and Beverage Punch Card. Using the punch card guests are welcome to enjoy complimentary one item from each vendor while supplies last (Chick-Fil-A, Dominos Pizza or Mission Barbeque). Be sure to arrive early to enjoy your favorite!
In addition to the punch card, the Prasco Park concession stand will be open serving the renowned Diamond Dog and Good Burger as well as other fan favorites. Prasco Concessions, ice cream from The Cone and Italian Ice from the Chill out Truck are not included in the punch card (visits to these are unlimted).  Soft drinks and water will also be provided free of charge and not limited with the punch card.
Our venue will have general admission seating on the turf directly in front of the stage. Blankets as well as chairs are encouraged. Tables, tents or large umbrellas, regardless of size, ARE NOT PERMITTED on the turf and will not be allowed into the venue. Please be courteous of other patrons near you and do not take up more space than is needed.
Please arrive prior to 7PM! Arrive early to get the best spots in the parking facilities, and to avoid the heaviest traffic periods. Food and beverage will be open prior to the show beginning at 5 PM and closing at 8:30 PM. All guests are welcome to enjoy complimentary food and beverage.
As guests approach an entrance, their personal bags will be searched. Once the bag check is complete, they should remove all items from their pockets and place it along with the checked bag on the table provided. Staff will provide direction as they walk through the metal detector. Once through, they should gather personal belongings and proceed to the ticket taker.
Please check your parking assignment prior to arrival. THERE WILL BE NO ONSITE PARKING unless you were mailed a Preferred Parking Pass or possess a state-issued ADA placard/license plate. Please review the map for additional information.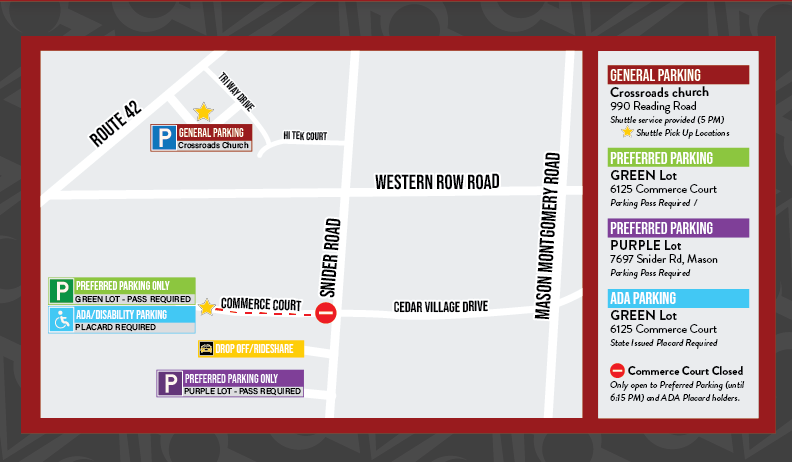 Preferred Parking Lot - PURPLE LOT
7697 Snider Rd, Mason, OH 45040
BLUE Preferred Pass REQUIRED, only open until 6:15 PM
Preferred Parking Lot - GREEN LOT
6125 Commerce Court, Mason, OH 45040
GREEN Preferred Pass REQUIRED, only open until 6:15 PM
General Parking - Crossroads Church
990 Reading Rd, Mason, OH 45040
Open to all ticket holders. Complimentary shuttles provided to and from the venue. 
ADA/Accessible Parking - GREEN LOT
6125 Commerce Court, Mason, OH 45040
State-Issued placard or liscnese plate required. 
DROP OFF and RIDESHARE
NORTH ENTRANCE of 7697 Snider Rd
All drop offs must enter the Drop Lot from the southbound lane of Snider Road between Commerce Court and Hunters Green Road. THIS IS A RIGHT TURN ONLY ENTRANCE
Prasco park remains committed to maintaining a safe and secure environment for persons who visit our facility. Please read our Code of Conduct, which promotes an enjoyable, family-friendly environment.
In order to promote a safe, comfortable, and family-friendly atmosphere, Prasco Park and Legacy Field employs a Code of Conduct.
The following Code of Conduct is intended to enhance the safety and enjoyment of all Rock the Park guests.
As part of the Prasco campus, Prasco Park is a tobacco and alcohol free facility.
Guests will enjoy the park free from profane or abusive language and obscene gestures.
Obscene or indecent clothing will not detract from guests' experience.
Intervention with an unruly, impaired, or intoxicated guest will be handled in a prompt and safe manner.
The progress of the concert will not be disrupted by guests' actions or by unauthorized persons on the concourse or stage. All trespassers in restricted zones will be aggressively prosecuted to the fullest extent of the law.
Guests will refrain from displays of affection not appropriate in a public, family setting.
Children will be supervised by responsible adults at all times.
 Pets will not be permitted on the premises.
Please review the below items to ensure you are prepared for your Rock the Park experience.  
Parking at the venue is a valued commodity, and it becomes even more significant when guests arrive for events. Due to the high traffic volume, Prasco will utilize designated lots to maintain the best possible experience for all guests. Select cars will have access to Preferred Parking (parking within a short walking distance of the venue) while others will be assigned to a general parking location slightly further away.
Parking Lottery Information
To ensure a smooth and hassle-free arrival and departure experience for all concert goers, we have implemented an innovative parking system. Our "first-come-first-served" policy could lead to traffic congestion and inconvenience upon arrival. Therefore, we are excited to introduce the Parking Lottery, which will aid in the efficient flow of traffic to and from the venue.
Here's everything you need to know about our parking arrangements:
 How it works: Upon completion of the ticketing process, all ticket holders will automatically be entered into the parking lottery. No additional registration is required – you're in the running!
Ticket Holders' Instructions: Once the lottery drawing is complete, lucky winners will be issued additional instructions on where to park. Rest assured that we'll make the process as seamless as possible, so you can focus on enjoying the event without any parking worries.
 Parking Notification: All attendees will be were notified accordingly about their successful entry into the Parking Lottery and will be provided with detailed instructions on where to park. With Preferred Parking, they can look forward to convenient and easy access to the event within walking distance to the gate. For those who didn't win Preferred Parking, don't worry! We have planned our parking arrangements carefully to accommodate all attendees. There will be ample parking spaces available for a stress-free parking experience.
Fair and Convenient: Our parking lottery system ensures fairness and provides everyone with an equal opportunity to secure parking spaces. Whether you're a long-time fan or a first-time attendee, this system guarantees a smooth parking experience for all.
THERE WILL BE NO ONSITE PARKING UNLESS YOU HAVE A PREFERRED PARKING PASS or a state-issued disability permit or license plate.
Commerce Court will be CLOSED during the event. Please note the parking locations.