Friday May 17 - Friday May 17 @ 7:00 pm
UC vs Xavier – SKYLINE NIGHT
Theme Night, Special Events
Free Skyline Conies!!! In the event of our parking lots getting full- there are three options for parking! A. 6125 Commerce Ct. Mason, OH 45040
Parking is available onsite during the Skyline Night. Prasco Security and law enforcement will be directing traffic and assisting with parking. Please pay attention to the parking signs and instructions.
B. Overflow lots at area businesses on Commerce Court and Snider Road will be accessible. All vehicles are subject to tow if parked in any Lot B location prior to 5:00 PM. C. 5165 Western Row Rd.bMason, OH 45040
Overflow parking is available at Christ Church on Western Row Rd. A free parking shuttle will operate continuously beginning 90 minutes before first pitch until one hour after the game. The shuttle will run from the Overflow Lot Cto Prasco's North gate on Commerce Court.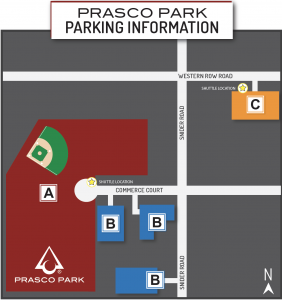 RECOMMENDED EVENTS
Sat Jul 09 @ 1:00 pm
Spikes Baseball
Spikes 13u
MORE DETAIL
Sun Jul 10 @ 1:00 pm
Spikes Baseball
Spikes 13u
MORE DETAIL
Tue Jul 12 @ 6:00 pm
Theme Night
Great Lakes All Star Game // Taste of Prasco
MORE DETAIL